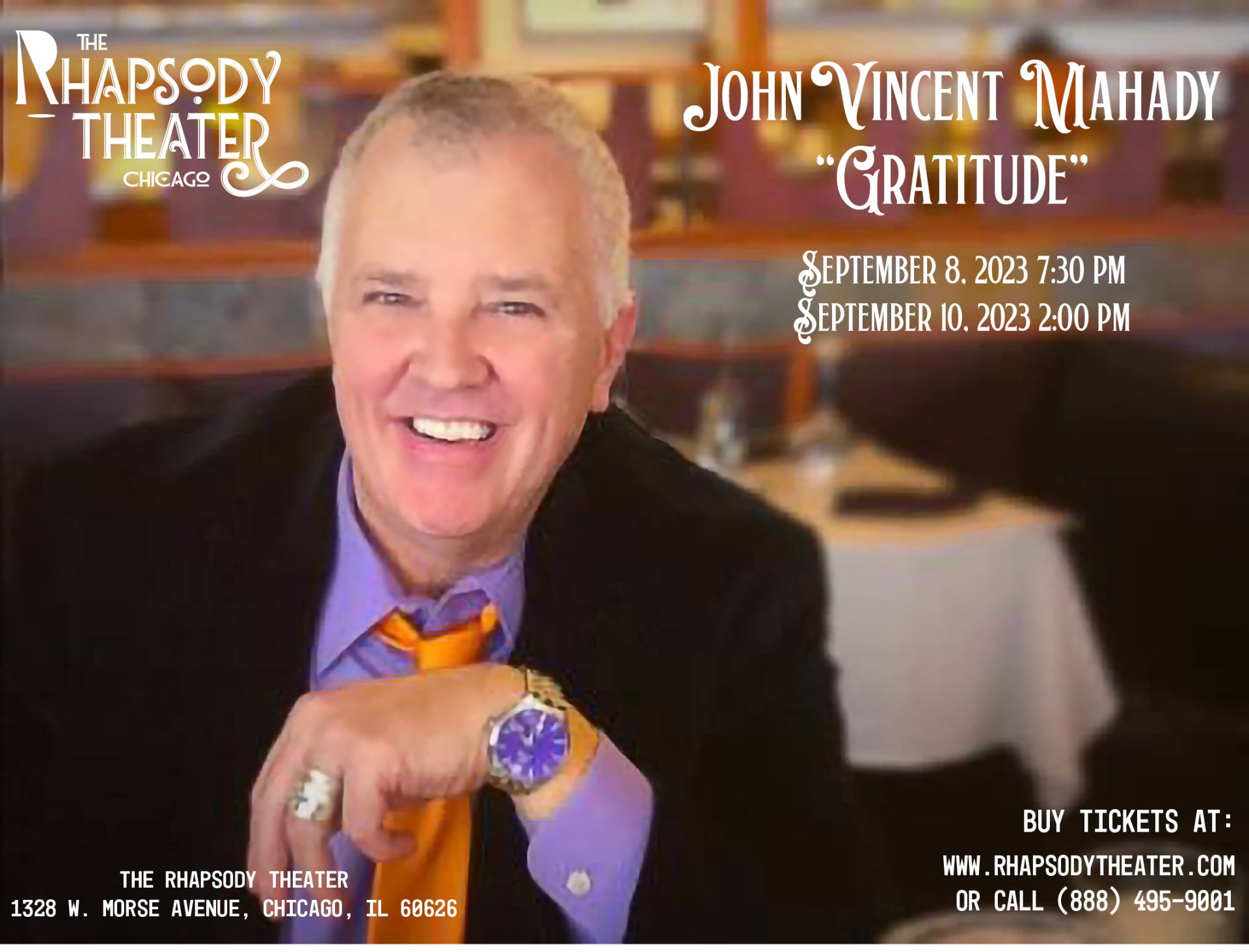 John Vincent Mahady - in Concert "Gratitude"
September 8 and September 10
Gratitude
John Vincent Mahady debuts his newest one-man Crooner concert entitled "Gratitude" at The Rhapsody Theater in September 2023. The performance celebrates his 45 years of performing live in some of the greatest venues in Chicago, including Toulouse-onthe-Park, Royal George Theater, Mercury Theater, Remains Theater, Yvette's and Boombala on Lincoln Avenue. His quick clever wit which is part of his storytelling combined with a selection of musical songs that tickle your soul and warm your heart provide an evening of sheer joy. All of his past performances have been written and produced by John. He will be joined on stage with his musical director for 35 years, Beckie Menzie. "You'll be lucky to run into a performer willing to give as much as John Vincent Mahady" Rick Kogan, Chicago Tribune 
About John Vincent Mahady
John Vincent Mahady has been writing, producing and starring in his one-man concerts since graduating Northwestern University in 1982. While attending Northwestern, he was a 4-year featured performer in the nationally famous Waa Mu Show, as well as many other campus productions. In 1988, he debuted his first solo concert at The Royal George Theater. In the 35 years that followed, he has performed to sold-out audiences at such esteemed Chicago venues at Toulouse-on-the-Park, Yvette's, Boombala, Mercury Theater, Vittum Theater, Gentry On Rush, Heller Auditorium at Francis Parker, Mayne Stage, Crickett's, The Drake, Kenilworth Assembly Hall and Yvette's Wintergarden. Additionally, he has taken his shows on the road to Dallas, Los Angeles, New York and Florida. John released his debut CD entitled Intimate in 1988 and is currently working on a new CD to be released in 2024. John has supported his musical career with a parallel career in the restaurant business. His client base in the service industry is as large as his mailing list. He worked with Lettuce Entertain You for 34 years at Un Grand Cafe / Mon Ami Gabi. He joined the Ballyhoo Hospitality Group in 2021 to help launch their new French Bistro, Pomeroy Winnetka. He is currently writing a waiter's memoir entitled, " I Heard You The First Time." He hopes to finish it in early 2024. He will launch the book to coincide with the show of the same title which he wrote, produced and debuted in 2021. John proudly credits the great 20th Century Crooners for igniting his passion for vocal performance. He has been influenced by the masterful styling of Sammy Davis, Mel Torme, Bobby Darin, Tony Bennett and Matt Monro, as well as many others. He prides himself in his tireless search for meaningful lyrics and luscious melodies. He learned at an early age that if you sing from the heart, it goes to the heart. He is meticulous in selecting his new material for each performance. John grew up in Buffalo, NY and both his parents were musically gifted and always encouraged him to pursue his dreams of a life on stage. The joy he shares on the stage with his audiences is just a continuation of how he has led his own personal journey in life. His musical path is paved with beautiful bricks of gratitude. He cherishes his loyal fans and never takes their continued support for granted. To quote Rick Kogan from The Chicago Tribune: " You'll be lucky to run into a performer willing to give as much as John Vincent Mahady.