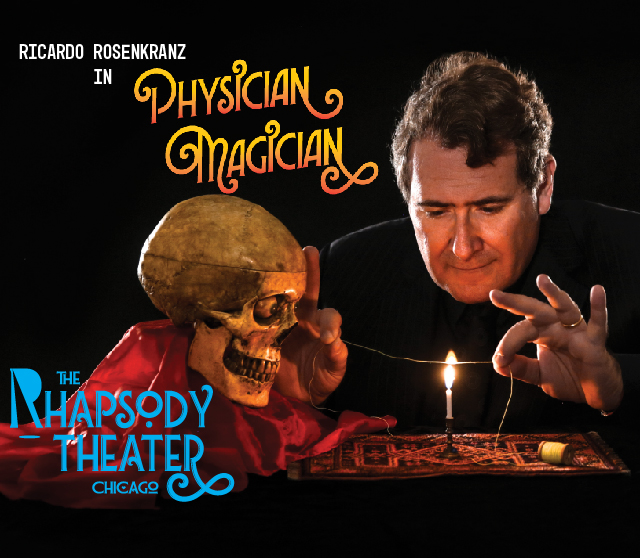 Physician Magician
February 9 to April 2, 2023
After premiering hit magic shows in 2016 and 2018 Dr. Ricardo Rosenkranz returns to Chicago Stages this February with his new show called Physician Magician.
Prepare for an elegant evening of rarely seen magic and illusion. Internationally regarded illusionist and award-winning physician Ricardo Rosenkranz, invites us into his study so that he may share the magical performances he so dearly loves. Along the way we learn about his connection between medicine and magic witnessing mysteries that might unlock the mind and warm the heart.
The new show includes several never-before-seen illusions and brings back many signature classics and audience favorites including Balsamo, last seen on the CW's Fool Us.
It's an unforgettable performance of upbeat, fun, magical theater in a beautiful cabaret style setting.
Teller of Penn & Teller Fame says about Dr. Rosenkranz's Show:
"Physician Magician is like spending a cozy evening with your jovial doctor – who just happens to command some of the rarest and most beautiful illusions in the world.
The show is an elegant soiree, a fireside chat entwined with brain-busting mysteries, conjured by a physician/magician, who sees the world through the double lens of medicine and magic." 
Chris Jones of the Chicago Tribune gave Dr. Rosenkranz's previous show 3.5 Stars and said:
"An immensely likeable, intelligent and very intimate show. Makes your spirit yearn to heal itself. Well worth seeing! A sophisticated affair. Very cool."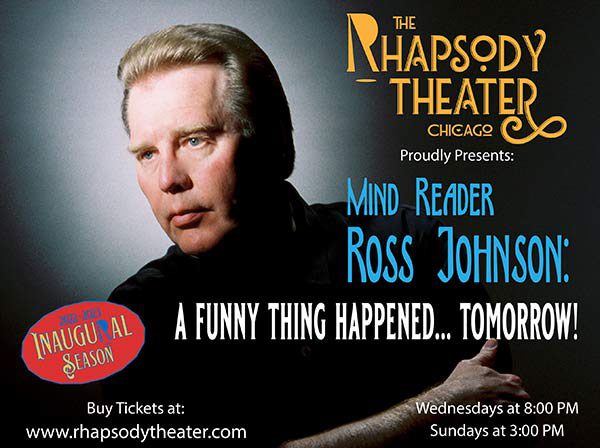 Ross Johnson
New Performances Beginning March 16, 2023
Ross Johnson knows you're skeptical about ESP. He knows you don't believe in mind reading, second sight or mental projection because, well, he can read your mind!
For more than three decades, Ross Johnson has been hailed as one of the most gifted psychic performers of our time. Mind reader, magician, clairvoyant, fortune teller, telepath, mentalist… Ross Johnson is all this and more. He is a master of intuition and has a remarkable ability to see what can't be seen and hear what can't be heard.
Combining elements of extrasensory perception, magic and mind over matter, Ross provides his audiences with an entertaining and highly interactive experience. Even the most hardened skeptics become believers.
"Outstanding! Our group was fascinated, intrigued, baffled, mystified and just plain entertained the entire time [he was] on stage. [Johnson] certainly possess[es] a great talent." – David C. Ambrose, General Mills, Inc.
"I'm sure you're no stranger to such comments on [this] performance as 'astounding,' 'extraordinary,' 'incredible' or even 'shocking. But [Johnson's] recent appearance at our meeting dinner was all those and more." – Jeffrey S. Garnes, FMC Corporation