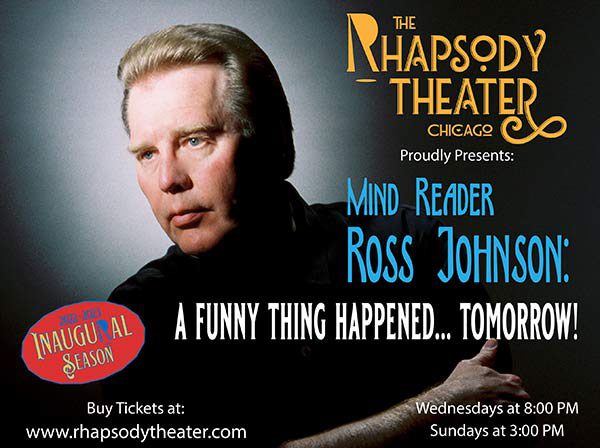 Ross Johnson
June 26 - July 31, 2022
Ross Johnson knows you're skeptical about ESP. He knows you don't believe in mind reading, second sight or mental projection because, well, he can read your mind!
For more than three decades, Ross Johnson has been hailed as one of the most gifted psychic performers of our time. Mind reader, magician, clairvoyant, fortune teller, telepath, mentalist… Ross Johnson is all this and more. He is a master of intuition and has a remarkable ability to see what can't be seen and hear what can't be heard.
Combining elements of extrasensory perception, magic and mind over matter, Ross provides his audiences with an entertaining and highly interactive experience. Even the most hardened skeptics become believers.
"Outstanding! Our group was fascinated, intrigued, baffled, mystified and just plain entertained the entire time [he was] on stage. [Johnson] certainly possess[es] a great talent." – David C. Ambrose, General Mills, Inc.
"I'm sure you're no stranger to such comments on [this] performance as 'astounding,' 'extraordinary,' 'incredible' or even 'shocking. But [Johnson's] recent appearance at our meeting dinner was all those and more." – Jeffrey S. Garnes, FMC Corporation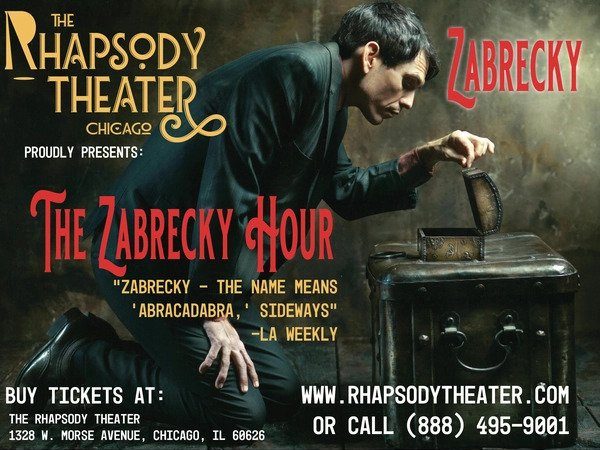 Zabrecky: The Zabrecky Hour
LAST CHANCE! Jul 21, 2022 - Sep 17, 2022
Looking for magical entertainment outside of the box? Zabrecky is a two-time Stage Magician of The Year award winner. He is an entertainer unlike any you've ever seen before. In live performances he invents a magical world through a series of oddly beautiful effects which he combines with remarkable timing and sensational theatrical edifice.
Like film director David Lynch, Zabrecky sets the stage for everyday life, then he sets it on fire. He is strange and then wonderful. Puzzling. Empathetic. Engaging. Talented. And, get ready, all of these in quick succession: mysterious, hilarious, and always unexpected.
"A unique persona, highly reminiscent of Norman Bates, with a bit of Rod Serling in the mix — a psycho from the Twilight Zone, doing magic." – Magic Magazine
"Zabrecky: one highly entertaining bundle of distinct point of view." – LA Times