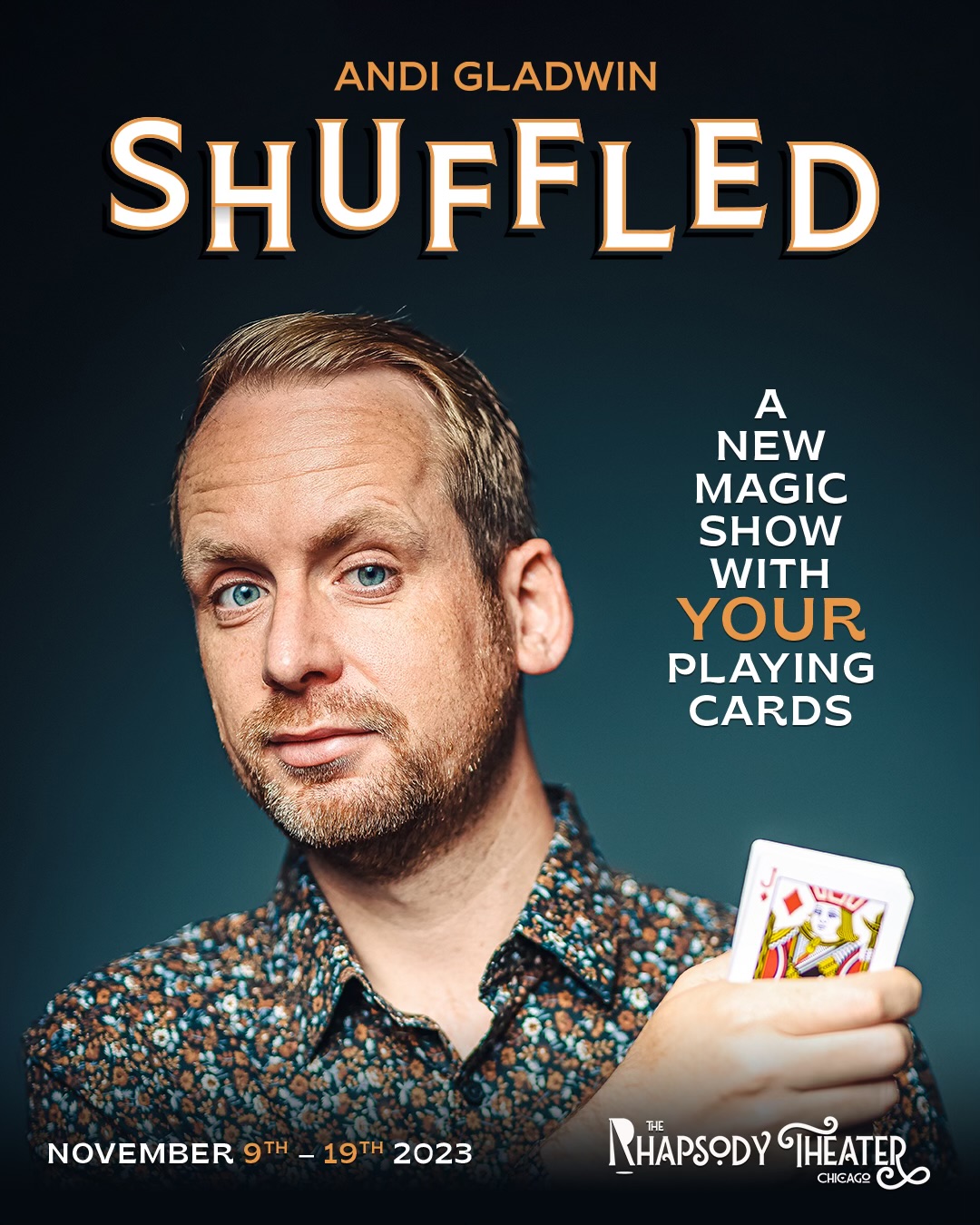 Shuffled with Andi Gladwin
November 9, 2023 - November 19, 2023
Andi Gladwin's new intimate magic show unveils a mesmerizing fusion of storytelling, technology, and your very own deck of cards! An electrifying evening of magic awaits you for this brand-new show, developed exclusively for performances at The Rhapsody Theater.
A Truly Unique Magic Show
Each guest is invited to bring their own deck of cards. A deck kept from Grandmother's Bridge game? A tourist deck from your last vacation? The family Uno deck? Whatever the deck; bring it along and it will become part of the show in the hands of a master of sleight-of-hand.
Who Is Andi Gladwin?
British magician Andi Gladwin is has dedicated his life to magic. He has performed all over the world at prestigious events such as in Washington, DC for President Obama's Inauguration, the world's most expensive private yacht, and more.
"The best magic creates a story," Andi says, "My aim is for everyone to walk away with a new experience that they will talk about for the rest of their lives." Those stories have been told by guests at thousands of events over the past decade.
Andi was a winner of Penn & Teller: Fool Us, where he managed to leave the magic duo completely dumfounded. He has also appeared on British ITV's Next Great Magician, and is a season regular on CW Channel's Masters of Illusion. His magic is funny, upbeat, and downright deceiving. You'll be talking about it for years to come … and you'll never look at that family deck of cards in the same way again.
Secure Your Shuffled Tickets!
Take part in this extremely limited run of 10 shows, with just 40 seats per show. Prepare to be part of an experience that transcends the ordinary; a magic show where you bring the props.
70 minutes, no intermission.
This is a strictly limited run of 10 shows only, with 42 seats per show!
Suitable for ages 10 and older