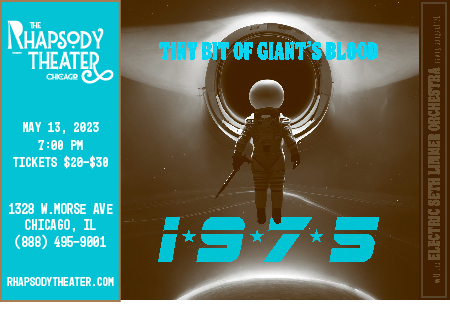 "1-9-7-5" by TINY BIT OF GIANT'S BLOOD
May 13, 2023 at 7:00 PM
"1-9-7-5" by TINY BIT OF GIANT'S BLOOD
A one-night only event: Critically-adored "glam punk heavy rock" band Tiny Bit of Giant's Blood makes their first Chicago appearance since early 2020… with the debut performance of their new mini-space-rock-opera "1-9-7-5," with other new hits and death-transcending favorites.
In the spirit of Rush: 2112 and The Who: Tommy, "1-9-7-5" spins a futuristic tale that sees an entire generation of elder humans conscripted into deep space for life-threatening exploration…. one ship in particular whose course is inalterably plotted for the heart of the nearest black hole.
Praise for TBGB:
"Sonically bold"  —The Big Takeover
"Gloriously eccentric"  —Get Ready to Rock
"So ready for an arena, you want to build one for them" —New City
"Exquisitely pornographic arrangements" —Deep In The Music
"Like Queen meets The Sweet" —Strutter
w/ THE ELECTRIC SETH LIMMER ORCHESTRA performing songs of '75
Before your journey to the future, you'll boogie back to the not-so-distant past, with an opening set from Seth Limmer's band of rock & roll time-travelers, performing the most iconic songs of 1975—the year that gave us BORN TO RUN, YOUNG AMERICANS, FLEETWOOD MAC, and KISS ALIVE for starters!
Sponsored by the Interstellar Productivity Project: "If you were born before 1980, you must report to the Rhapsody Theater on May 13."